Ch-ch-ch-changes: A influência de David Bowie na franquia cinematográfica do filme "Labirinto" de Jim Henson
Palavras-chave:
Fantasia urbana, insólito, Labirinto, Jim Henson, David Bowie, gênero
Resumo
Há quase quarenta anos, o filme Labirinto, dirigido por Jim Henson, encontra facilmente seu lugar em nossos lares. Em 2016, tornado célebre, numerosas revistas chegaram inclusive a tratá-lo como um filme cult por ocasião do lançamento da edição especial de seu 30º aniversário. No entanto, a estranha mistura que essa popularidade perpétua produziu também se tornou difícil de categorizar. Com efeito, embora Henson tenha feito do projeto um filme maravilhoso em um mundo secundário, mudanças inesperadas se lhe foram impostas, e, sobretudo, depois que David Bowie aceitou o papel de antagonista na história. Assim como a heroína é transformada ao atravessar o labirinto, as últimas alterações fizeram do filme algo, ao mesmo tempo, maduro e único em seu gênero. Por outro lado, quando essas mudanças são consideradas com os elementos transmidiáticos ao redor do filme, este se revela mais alinhado com outro gênero do insólito, ainda pouco estudado, que começava a conhecer algum sucesso nos anos 80: a Fantasia urbana. Assim, com as pesquisas recentes sobre a Fantasia e a Fantasia urbana como ponto de apoio, este artigo analisa a influência de Bowie não somente na produção do filme Labirinto, mas também no roteiro, no cenário e na trilha sonora.
Referências
BIBLIOGRAPHY
ATTEBERY, B. Strategies of Fantasy. Bloomington & Indianapolis: Indiana University Press, 1991.
BOWIE, D. Chilly Down. New York: EMI, 1986. (a)
BOWIE, D. Underground. London: EMI, 1986. (b)
BOWIE, D. Magic Dance. New York: EMI, 1987.
BUDIANSKY, B. Labyrinth. v. 1. New York: Marvel, 1986.
BULL, E. War for the Oaks. Orb 2001 ed. New York: Ace, 1987.
BUTCHER, J. The Dresden Files series. New York: Roc Books, 2000.
CLUTE, J.; LANGFORD, D. Urban Fantasy (J. Clute, J. Grant, Eds.) The Encyclopedia of Fantasy. London: Orbit, 1997. Available at: <http://sf-encyclopedia.uk/fe.php?nm=urban_fantasy>. Accessed: 15 Aug. 2019.
DE LINT, C. Moonheart. Orb 1994 ed. New York: Ace, 1984.
DEROCHEA, B. Brian Froud, Wendy Froud & Terri Windling: making faeries. Rambles.net, 9 Jan. 2000. Available at: <http://www.rambles.net/froud_windling.html>. Accessed: 20 Jun. 221.
EKMAN, S. Urban Fantasy: A Literature of the Unseen. Journal of the Fantastic in the Arts, v. 27, n. 3, p. 452–469, 2016.
FORBES, J. T. Jim Henson's Return to Labyrinth. v. 1. Los Angeles: Tokyopop, 2006.
FRITH, S.; STRAW, W.; STREET, J. (ed.). Star Profiles II. In: The Cambridge Companion to Pop and Rock. Cambridge: Cambridge University Press, 2001. p. 193–210.
FROUD, B.; FLETCHER, R. 9 gorgeous Labyrinth secrets – told to us by the man who made it. Disponible at: <https://www.digitalspy.com/movies/a811304/gorgeous-secrets-from-labyrinth-from-the-man-who-made-it/>. Accessed: 17 Jun. 2021.
GOETHE, J. W. V. The Erl-King. In: The Poems of Goethe. Translation, Edgard Alfred Bowring. London: Parker and Son, 1853.
Labyrinth (1986) - IMDb. Available at: <https://www.imdb.com/title/-tt0091369/?ref_=adv_li_tt>. Accessed: 20, Jun., 2021.
HENSON.COM. '4/8-10/1985 – 'Work with Elaine May on script.' Available at: <https://www.henson.com/jimsredbook/2012/04/48-101985/>. Accessed: 12, Jun. 2021.
HENSON, J.; OZ, F. The Dark Crystal. Universal Pictures, 13 Dec. 1982.
HENSON, J.; PIRANI, A. Into the Labyrinth with Jim Henson: Part Two. Starlog: The Science-Fiction Universe, n. 109, 1986. Available at: <https://archive.org/details/starlog_magazine-107>.
HENSON, J.; SCHLOCKOFF, A. Jim Henson: "le labryinthe est un voyage à travers une réalité aussi déconcertante que la vie même". L'écran fantastique, n. 77, p. 36–39, Feb. 1987.
MCLENNON, L. Defining Urban Fantasy and Paranormal Romance: Crossing Boundaries of Genre, Media, Self and Other in New Supernatural Worlds. Refractory: A Journal of Entertainment Media 23, 2014. Available at: <https://refractory-journal.com/uf-mclennon/>.
MENDLESOHN, F.; JAMES, E. A Short History of Fantasy. 2nd. ed. Oxfordshire: Libri Publishing, 2012.
MENDLESOHN, F. Rhetorics of Fantasy. Connecticut: Wesleyan University Press, 2008.
MIÉVILLE, C. Perdido Street Station. New York: Del Rey, 2000.
PHILIPS, L.; JONES, T. Labyrinth. Available at: <http://www.astrolog.org/labyrnth/script.txt>. Accessed 15 Jun. 2021.
RIDLEY SCOTT. Legend. 20th Century Fox, 1985.
SAUNDERS, D. Inside the Labyrinth Jim Henson Television, 1987.
SMITH, A. C. H. Labyrinth: a Novel. New York: Henry Holt and Company, 1986.
TODOROV, T. Introduction à la littérature fantastique. Paris: Editions du Seuil, 1970.
WILLIAMS, O. Labyrinth: the behind-the-scenes history. Empire Magazine, n. 272, feb. 2012. Available at: <https://www.empireonline.com/movies/features/labyrinth-movie-history/>. Accessed: 14 Jun. 2021.
WINDLING, T. Artist of the Week - Terri Windling. Modern Fairies, 19 Nov. 2018. Available at: <http://www.modernfairies.co.uk/blog/artist-of-the-week-terri-windling>.
------------------- Introduction. In: BLACK, H.; KUSHNER, E. (Ed.). Welcome to Bordertown: New Stories and Poems of the Borderlands. New York: Random House, 2011. p. 4–8.
WYNNE JONES, D. The Tough Guide to Fantasy Land. London: Gollancz, 1996.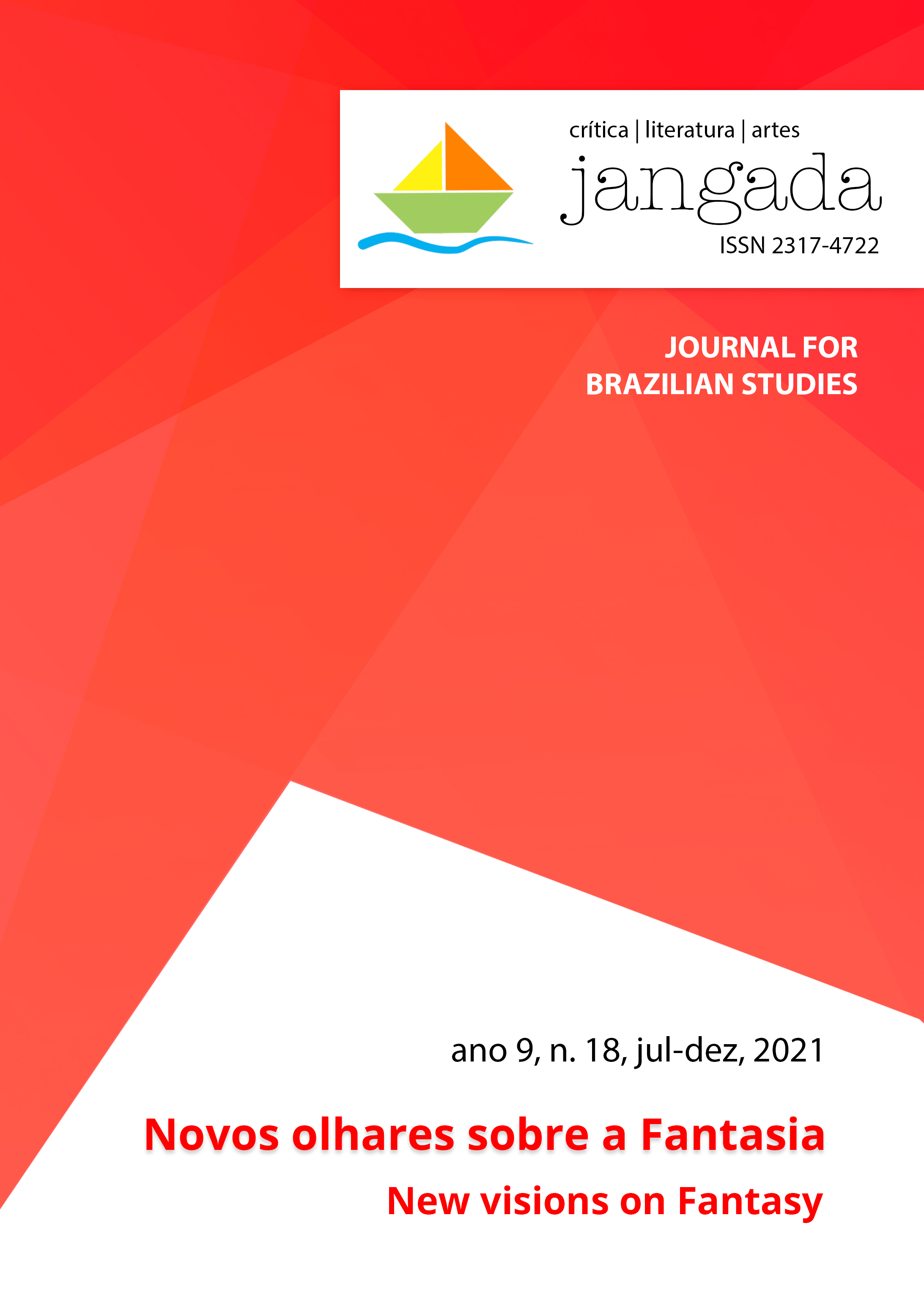 Downloads
Como Citar
McDonald, D.-L. (2021). Ch-ch-ch-changes: A influência de David Bowie na franquia cinematográfica do filme "Labirinto" de Jim Henson. Jangada: Crítica | Literatura | Artes, 2(18), 278–293. https://doi.org/10.35921/jangada.v1i18.426