La Fantasy au théâtre: identification et expérimentation du genre sur la scène théâtrale
Palavras-chave:
Fantasy, Th´éâtre, Création artistique, Expérimenation, Thèse
Resumo
Cet article présente l'approche de la Fantasy dans l'espace théâtral par son identification et son expérimentation. La Fantasy est très peu abordée dans la recherche universitaire française. Quand elle fait l'objet d'études universitaires, la Fantasy est majoritairement étudiée comme genre littéraire ou comme une mouvance de la pop culture. L'alliance du théâtre et de la Fantasy n'est jamais étudiée, comme si le genre n'existait pas au théâtre. Pour prouver son existence, une enquête dans les bases de données recensant les pièces de théâtre a été effectuée pour trouver des œuvres théâtrales se rapprochant de la Fantasy. Cette enquête a été jumelée avec une étude d'essais universitaires sur le genre pour en identifier toutes les spécificités ainsi qu'avec une recherche en création artistique qui porte sur l'expérimentation dramaturgique et scénographique de la Fantasy au théâtre. Les premiers résultats de cette recherche, qui est en cours d'exécution, permettent de placer en évidence le besoin de mettre en avant la Fantasy au théâtre qui malgré sa présence n'est pas reconnue sur scène. Pour répondre à ce besoin, il est nécessaire de mieux identifier les récurrences existantes et de pousser l'expérimentation pour faire de la Fantasy un genre théâtral à part entière.
Referências
BARRIE, J.M. Peter Pan, or The Boy Who Wouldn't Grow Up. London: Hodder & Stoughton, 1911.
BAUM, L. Frank. The Wonderful Wizard of Oz. Chicago: George M. hill Company, 1900.
BESSON, Anne. La fantasy. Paris : Klincksieck, 2007
BETTELHEIM, Bruno. The Uses of Enchantment: The Meaning and Importance of Fairy Tales. Lodon: Vintage Books Edition, 2010.
CHATEL, Philipe. Emilie Jolie. Paris : BMG Ariola, 1979.
CLUTE, John, GRANT, John. The Encylcopedia of Fantasy. London: Orbit, 1997.
COCTEAU, Jean. Théâtre complet. Paris : Gallimard, coll. Bibliothèque de la Pléiade, 2003.
DEBOUT, Jean-Jacques. La Forêt magique. Jean-Jacques Debout, 1979.
________. Le Soulier qui vole. Jean-Jacques Debout, 1980.
________. La Planète merveilleuse. Jean-Jacques Debout, 1982.
________. Le Mystérieux Voyage de Marie-Rose. Jean-Jacques Debout, 1984.
________. L'Etrange Histoire du château hanté. Jean-Jacques Debout, 1989.
________. Le Grenier aux trésors. Jean-Jacques Debout, 1997.
________.Les Aventures fantastiques de Marie-Rose. Jean-Jacques Debout, 2015.
ELIOT, T.S. Old Possum's Book of Pratical Cats. London: Faber Faber, 1939.
GAUDE, Laurent. Médée Kali. Paris : Actes Sud, 2003.
________. Sodome, ma douce. Paris : Actes Sud, 2009.
GRAHAME, Kenneth. The Wind in the Willows. London: Sterling Children's Books, Illustrated edition, 2012.
IONESCO, Eugène. Rhinocéros. Paris : Gallimard, coll. Folio, 1972.
________. Le roi se meurt. Paris : Gallimard, coll. Folio, 1973.
________. Macbett. Paris : Gallimard, coll. Folio, 1975.
________. Tueur sans gages. Paris: Gallimard, coll. Folio Théâtre, 2003.
JBX. Reflets d'Acide. 2004-2017.
LANG, « Pen of Chaos » John. Le Donjon de Naheulbeuk, 2001-2008.
LAPINE, James, SONDHEIM, Stephen. Into the Woods. San Diego: Old Globe Theatre, 1986.
MAGUIRE, Gregory. Wicked: The Life and Times of the Wicked Witch of the West. New York: Harper Collins, 1995.
MAKEÏEFF, Macha. Zone Céleste. Paris : Actes Sud, 2019.
MARTIN, G.R.R. A Song of Ice and Fire. New York: Bantam Books, 1996-2011, 5 Tomes.
MENDLESOHN, Farah. Rhetorics of Fantasy. London: Wesleyan University Press, 2008.
POMMERAT, Joël. Cendrillon. Paris : Actes Sud, Paris, 2013.
________. Le Petit Chaperon rouge. Paris : Actes Sud, 2014.
________. Pinocchio. Paris : Actes Sud, 2015.
POTTER, Beatrix. Le grand livre de Beatrix Potter. Paris : Gallimard Jeunesse, coll. BP Albums, 2008.
ROSTAND, Edmond. Chantecler. Paris : Flammarion, coll. GF, 2018.
ROWLING, J.K. Harry Potter. London: Bloomsbury Publishing, 1997-2007, 7 tomes.
RUAUD, André-François. Panorama illustré de la fantasy & du merveilleux. Paris : Moutons électriques, coll. Hélios, 2018.
THORNE, Jack, ROWLING, J.K., TIFFANY, John. Harry Potter and the Cursed Child Parts I & II. London: Little, Brown and Compagny, 2016.
TOLKIEN, J.R.R. The Hobbit, or There and Back Again. London: Allen & Unwin, 1939.
________. « On Fairy-Stories » in Essays presents to Charles Williams. London: Oxgford University Press, 1947.
________. Les Monstres et les critiques et autres essais. Dir. Christopher Tolkien. Trad. Christine Laferrière. Paris : Christian Bourgeois éditeur, 2005.
WEBBER, Andrew Lloyd. Cats. London, 1981.
WICKED THE MUSICAL URL : https://wickedthemusical.com/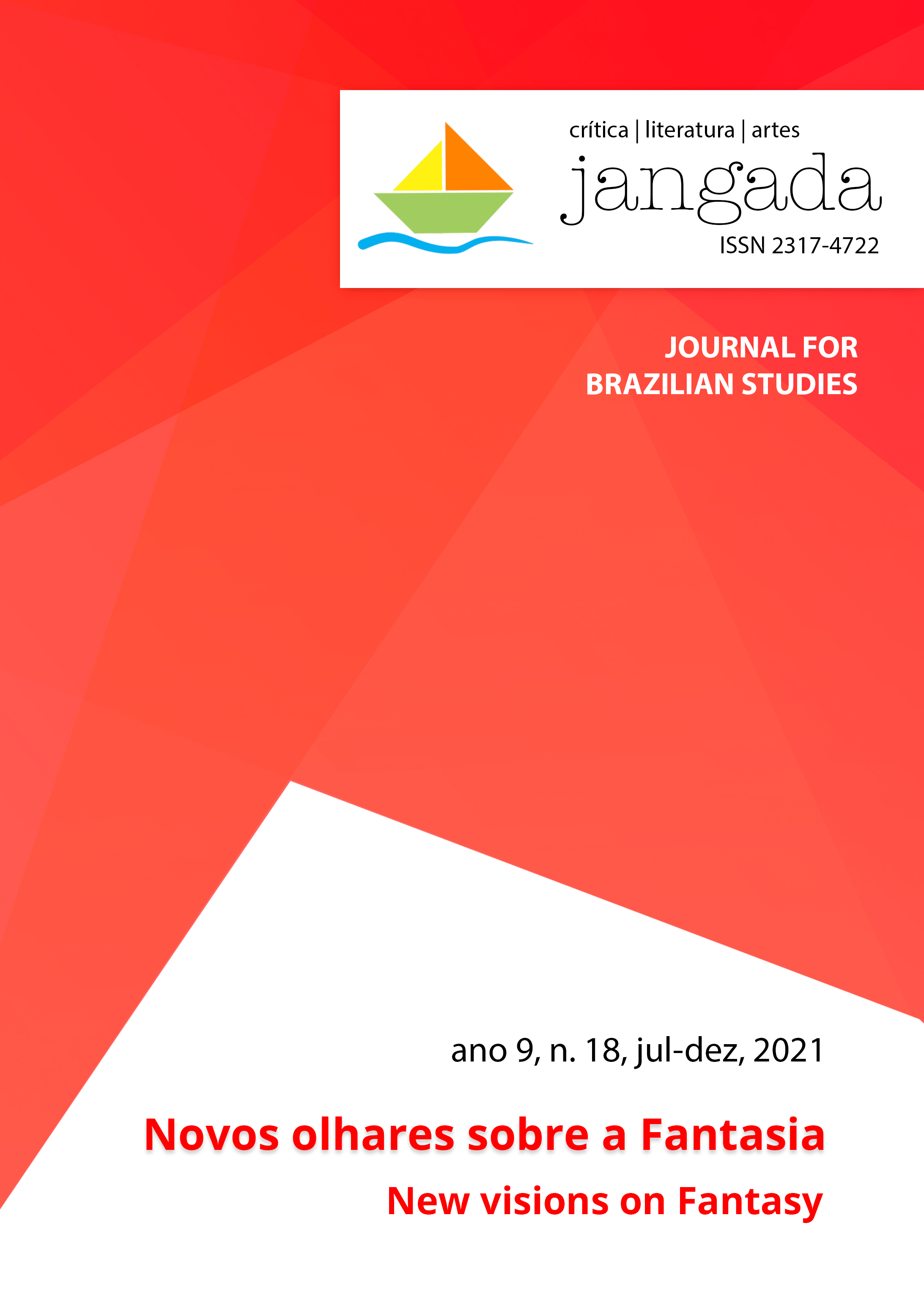 Downloads
Como Citar
Louarn, C. (2021). La Fantasy au théâtre: identification et expérimentation du genre sur la scène théâtrale. Jangada: Crítica | Literatura | Artes, 2(18), 71–92. https://doi.org/10.35921/jangada.v1i18.379